‹ Blog
Is Your Home Ready for Winter?
Here are our Top 3 Tips for a Warmer Home

Winter has arrived... No matter where you are in the country right now, I think we can all agree that the temperatures are dropping and that staying in bed all day sounds just as appealing as a island holiday. We want to help get you through the soggy season so here are our top 3 tips to keep the cold out this winter.

1 - Put Those Windows Away!
Windows are often the main cause of heat loss in any home so cover them up! The general rule of thumb is the more you have between you and the cold outside world the better. Blinds play a huge part in reducing the amount of heat escaping or cold coming into your home. According to Energywise "Good curtains and blinds can reduce heat loss through windows by 60% for single glazed windows, and 40-50% for double glazing." If you're struggling to keep your house warm, our blockout (thermal backed) roller blinds could be just what you need.
Pairing our Sunfilter & Blockout roller blinds on a double bracket will double your efforts and provide year-round UV protection for your interiors & furnishings. If you are interested in this option, we have a couple of different brackets available depending on the depth of your windowsills. Just mention this to one of our reps during your free consultation and they can see what option will be the most compatible for you.
If you are after just one blind, ensure it fits snug inside the window frame to stop warm air escaping from behind the blind through the glass, or vice versa, cold air leaking in. If heat retention is a priority for you then we recommend avoiding any gaps and opting for a mounting style we use called a "Fabric Finish". This is where the blind is mounted on the outside of the window frame and the blind is made as a regular/under roll. This means fabric rolls down closest to the window frame and creates a barrier to keep the warmth in. We call this a fabric finish due to the width of the fabric covering the entire window frame, this style is also popular with people who want a complete blockout effect.
Shutters are another great option to lift not only the temperature of the room but give your home a stylish face lift too. Our 100% Basswood Timber Shutters are custom made to fit your windows; they are made with solid wood frames which just like blinds will help significantly to better insulate your home.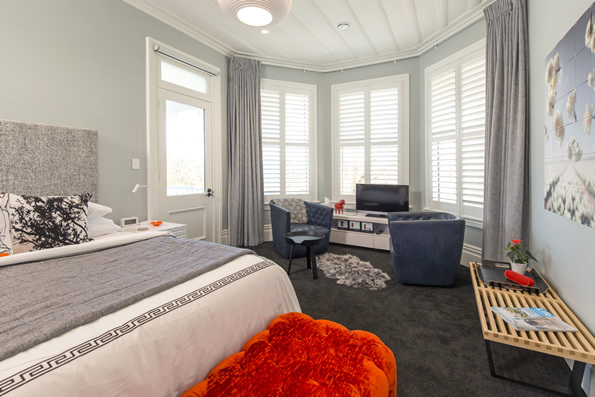 Venetians, while not as energy efficient as our blockout thermal blinds they still have a place in any home during the winter months. Venetians do a great job of brightening your living areas, kitchens and bathrooms and give off a warming summery feel. They work perfectly in the areas that do not require maximal heat retention.
2 – Dabble in Double Glazing?
Double-glazing has been proven to reduce the amount of heat lost through windows, it works by trapping a pocket of air between the two panes of glass. This practice works of the same theory as we stated earlier, the more material between you and the cold air outside the warmer your home will be. This is not a cheap exercise to undertake, however, it is a worthy investment if you are game.
3 – Let your House Breathe!
A damp home is no good for anyone and moisture build up makes for a difficult home to heat. Here are some ways to help dry it out and/or help prevent the moisture from building up in the first place:
Use a home ventilation system.
Open windows slightly during the day to allow for airflow.
Get a dehumidifier.
Use a ShowerDome and extractor fan in the bathroom.
Use a rangehood in the kitchen.
Article written by – Stephanie Jones (Brightshine LTD)
Top 3 Tips for a Warmer Home
Book a free consultation
Jun 18, 2021